(Penguin Modern Classics, 2000)
"I didn't want to harm the man. I thought he was a very nice gentleman. Soft-spoken. I thought so right up to the moment I cut his throat." -
Perry Smith
Wow, this is an incredible book - and so much more accessible than I was expecting! In fact, I'd go as far as to call it compulsively readable...
In Cold Blood
is surely Truman Capote's masterpiece (Holly Golightly might be cute as a button, but she just doesn't compare) and knocks modern true crime into the dust. It takes the murder of a Kansas family on their ranch and turns it into a jigsaw puzzle of brilliant storytelling and evocative journalism.
One mid-November night in 1959, four members of the wealthy Clutter family were tied up, shot and killed in their home. Herb Clutter, a successful rancher, along with his wife and two children Nancy and Kenyon, were found dead the next morning when friends arrived to catch a lift to church. The book explores how this horrific crime affected the surrounding community, and how the authorities locally and across the US worked tirelessly to catch the culprits. Alongside events in Kansas, Capote simultaneously offers us the story of the murderers themselves. Perry Smith and Dick Hickock both had charismatic personalities and complicated back stories, and after the Clutter murders managed to evade the law for over a month and a half before they were finally captured, jailed and taken to trial for their crimes. They were hanged in April 1965.
So far, so Crimewatch. What really makes this book special is how much heart and soul Capote pours into it. His eye for a good story and his focus on people rather than process render
In Cold Blood
as gripping and enjoyable as a novel. The amount of painstaking work he must have put into bringing this sweeping story together is genuinely awe-inspiring. For me, there was also the intriguing fact that Capote was known to have become close to Perry Smith during his research - how much did that skew how he was portrayed? It was certainly fun to wonder as I was reading.
Smith and Hickock sit right at the heart of the book, and it is their humanity that provided the most disturbing and thought-provoking aspect of my reading experience. I found myself reflecting on the complexities of law and order, and the validity of the death penalty. I began to consider the murderers more closely, to ponder whether one was more guilty than the other and what made them so - their mental health, their level of participation, their attitude? There were moments where Hickock melted into a normal American boy, and many times where I felt genuine sympathy for Perry and quite liked him - until some little word or gesture reminded me exactly what I was reading and what he had done.
In short,
In Cold Blood
has everything I want from a book: intriguing characters, an exciting narrative, thought-provoking themes and superb writing. The fact that the entire book is a work of true crime only adds to its brilliance, because every detail, movement and conversation had to have been so meticulously researched and slotted together to create this perfect piece of storytelling. I now have the
1967 film adaptation
to watch and two more Capote/Hickock/Smith movies to track down (
Capote
and
Infamous
) - and
In Cold Blood
is taking its place as one of my favourite reads of 2012! Highly recommended.
Notable Quotables:
"Imagination... can open any door - turn the key and let terror walk right in. Tuesday, at dawn, a carload of pheasant hunters from Colorado - strangers, ignorant of the local disaster - were startled by what they saw as they crossed the prairies and passed through Holcomb: windows ablaze, almost every window in almost every house, and, in the brightly lit rooms, fully clothed people, even entire families, who had sat the whole night wide awake, watchful, listening."
"'What is life? It is the flash of a firefly in the night. It is a breath of a buffalo in the winterime. It is as the little shadow that runs across the grass and loses itself in the sunset.' - Said by Chief Crowfoot, Blackfoot Indian Chief."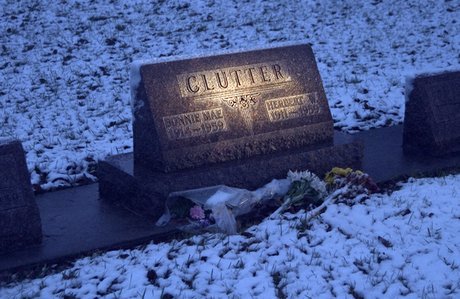 Source: I borrowed this book from my local library..