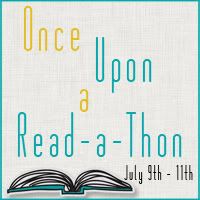 This is a shorter read-a-thon than Bout of Books - three days, not seven - but to my delight, spans a Monday-Wednesday, which means IT HITS MY DAY OFF ON TUESDAY! Yessssssss!
It's another great opportunity to devote myself to reading for a few days, to push myself to keep returning to my books instead of mucking about online or watching TV, AND to meet some new blogger friends along the way. Hopefully I might even have finished most of my library books by then, so I can concentrate on toppling a couple of titles from
Mount TBR
which, as you all know, is in imminent danger of avalanche. Or being rock blasted by my mother. *gulps*
For all the details, and to sign up, you can click on any of the three host blogs listed above. The Linky is the same across all three blogs, so you only need to sign up ONCE.
There will be challenges to participate in, and anyone who participates in at least one challenge and posts at least one update will be eligible for the read-a-thon prize: a $60 Amazon/Barnes and Noble/Book Depository gift card. Now that's a dangling carrot if ever I chased one. :)
Whaddya think? Fancy signing up with me? Go on - you know you want to...